Confirms its intention to start negotiations on trade-related e-commerce issues on the basis of existing WTO agreements and frameworks.

Picture source:123rf.com.cn
On January 25, at an informal ministerial meeting on e-commerce in Davos, Switzerland, China and Australia, Japan, Singapore, the United States, the European Union, Russia, Brazil, Nigeria, Myanmar and 76 WTO members have signed the Joint Declaration on Electronic Commerce, confirming their intention to build on existing WTO agreements and frameworks, Emphasizing that the unique opportunities and challenges facing WTO members in the field of electronic commerce will be fully recognized and taken into account, and encouraging all members to participate in the negotiations with a view to making electronic commerce an enterprise, Consumers and the global economy bring greater benefits. At the meeting, members stressed that the negotiation process should be open, transparent, inclusive and non-discriminatory.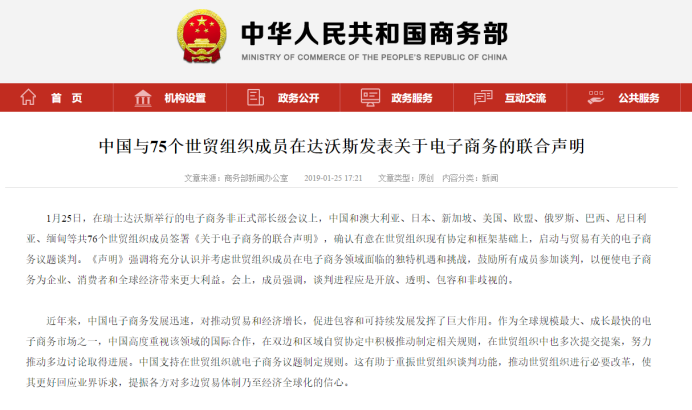 In recent years, e-commerce in China has developed rapidly, which has played a great role in promoting trade and economic growth and promoting inclusive and sustainable development. As one of the largest and fastest-growing e-commerce markets in the world, China attaches great importance to international cooperation in this field and actively promotes the formulation of relevant rules in bilateral and regional free trade agreements, and has submitted proposals many times in the WTO. Try to push forward multilateral discussions. China supports rules on e-commerce issues at the WTO. This will help reinvigorate the WTO's negotiating function, push it through the necessary reforms, make it more responsive to industry demands, and boost confidence in the multilateral trading system and even economic globalization.
China believes that WTO e-commerce negotiations should be conducive to safeguarding the multilateral trading system, adhering to the process of opening up and development orientation, respecting the reasonable demands of developing members, and making technological progress. Strike a balance between business development and the reasonable public policy objectives of each member, and negotiate equally to achieve outcomes acceptable to all. Only in this way can the great potential of electronic commerce be brought into full play to help developing members grasp and benefit from relevant development opportunities and better participate in the process of economic globalization.
China's permanent Representative to the WTO, Ambassador extraordinary and Plenipotentiary Zhang Xiangchen, attended the meeting on behalf of Minister of Commerce Zhong Shan.
Source: Hugo net